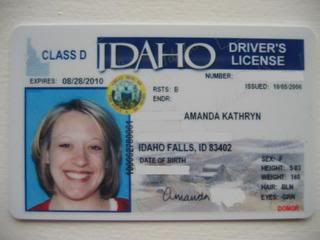 In the 12 years that I've been of legal driving age, I've had driver's licenses from 4 different states.

Michigan.
Wisconsin.
Utah.
Idaho.

I told C the other day that state #5 was not making its appearance anytime soon! This moving around is getting tiring. I can only imagine how much more difficult it will be with kids.

On the flip side though. C thought he was all big and bad because he only missed 2 questions on the written exam for his license. That's all I heard everytime we were in the car for the 10 days between when he got his and when I finally had the chance to make it into the County Office for mine.

It felt

so

good to have this conversation:

C: So, how did the test go?
M: Fine.
C: Did you pass?
M: Yup.
C: Didn't do as good as me, huh? (With a huge smirk on his face.)
M: Nope.

Pausing for about 5 seconds.

I didn't get

any

wrong.
C: You suck.